here
. If this interests you, feel free to add me as a friend- you don't have to ask first.
If you want to donate your old, unwanted keychain(s) to me, please comment, PM, or drop by my keychain geocache (more info on that behind the cut). I would be happy to accept any keychain in any condition and you will be helping to contribute to one of the world's largest high-quality keychain collections.
You can also become my patron and
support KOTD
directly. If you want to help me afford to buy new keychains, please stop by
my store
. There's jewelry, writing, tea, seeds, art, and more for just $5 each! You can also buy
my ebook trilogy
here to fund my keychain habit.
(
Keychain Cache directions and coordinates, book cover and store banner
Collapse
)
Thanks for reading, commenting, and donating. I hope you enjoy Keychain of the Day!


I collect keychains! I update everyday featuring a different keychain from my extensive collection. If you have questions about how many I have, how I got started, or other common questions I get, please check my inaugural post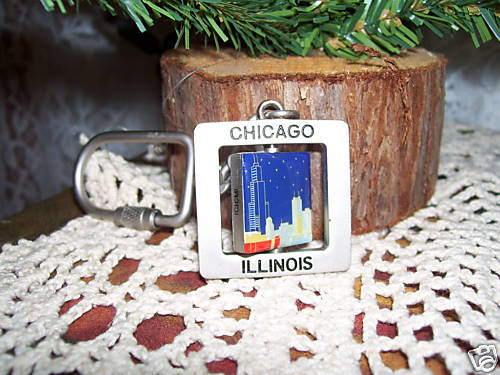 You may be wondering why I am posting a Chicago keychain on Halloween. 15 years ago, I was watching fireworks from a plane as I landed in O'Hare. It rekindled my love of travel. I had given it up during high school, college, and grad school since I could no longer be gone for weeks or months at a time and expect to pull all A's. I had the opportunity to go to Chicago all expenses paid to represent Florida State at the
National Collegiate Honors Council Conference
. It was so much fun and Chicago has a special place in my heart for this reason.
I gotta get back to "work" so that means haunted houses, scary movies, dancing zombies, costume contests (hoping to win again for the second year in a row!) and food. A film and music school has its advantages because everything is top notch :P Happy Halloween!


Snooty was always the nursemaid of the group. When Pokette lost her eye, Snooty could always be found sitting next to her. When Nosebelle had her stroke and had limited mobility, Snooty always was next to Nosebelle, propping her upright. Snooty had endless compassion for her family and I tried to show her the same as she struggled through many good days and bad. She will be very dearly missed.


Requiescat in pace.
Snooty, 2.5, of Orlando, FL passed away Friday evening in my arms due to complications from emphysema. Changes in air pressure due to the hurricane may have contributed to her sudden demise as she had been suffering from lung troubles since March. She is survived by her brother, Smellow, sister, Rostrum, and her adopted human family.
I saw this and knew that I needed it to live. It came in multiple colors and yes, there actually is a kite inside the keychain. For scale, the keychain is less than 3 inch in diameter. The kite looks to be a least a foot long once you unfold it. And no, I haven't used it yet. Maybe I'll go to the beach this weekend and try it out. But seriously, have you ever seen such a glorious keychain?!
Have a good weekend!
I am finally getting around to posting keychains acquired on my trip. I got this one outside the Vatican and I selected it because I loved Mama Wolf suckling Romulus and Remus. I always wondered what the world would be like if Remus had had the opportunity to name the city Reme in his honor instead. I digress.
It was really cool being present at the canonization Mass of St. Teresa of Calcutta. It fulfilled a life long dream and I never ever thought I would be there for such a big name saint! Free prayer cards were handed out which was a nice touch.
And yes, yes, YES! I saw the Pope ride the popemobile about 15 feet away from little old me. It was so amazing but all I found myself thinking at the time was how good his pores looked. I know, the random things you think at big moments of your life. Here was the picture on my camera from when he came around the bend. I missed him giving the thumbs up but am just impressed to have such a good picture of him at all!
It was a really amazing experience that words fail to truly describe.


Many of you are familiar with the story about how I acquired Nosebelle at the rat rescue. I was supporting a friend looking for a rat to adopt but Nosebelle chose me as soon as she heard my voice. We never looked back. When she suddenly gave birth a few days later and refused to raise her offspring, I was annoyed but didn't blame her. I could already tell that Nosebelle was truly special.

Other than with her children, Nosebelle was always eager to make friends with any person, dog, or cat who crossed her path. In fact, she usually behaved as though she had already been friends for ages with everyone she encountered. The two of us were especially close and she always saved plenty of extra licks and smooches for me.

Nosebelle came to me at a low point in my life, helped me enormously, and only asked for attention and treats in return. While I am glad she is no longer struggling with limited mobility, I feel deeply bereft. She was the very best friend I ever had.


Requiescat in pace.
Nosebelle, nearly 3.5, of Orlando, FL passed away a few minutes ago due to complications from a stroke she had while I was at work on Friday. The vet said that there wasn't anything that could be done to help her but she likely was not in any pain. She is survived by her son, two daughters, and myself.


Requiescat in pace.
Sneezy, 2.5, of Orlando, FL passed away sometime around Sunday as a presumed result of her tumor. She is survived by her adopted human family, mother, brother, and two sisters. Sneezy will always be remembered for rivaling with Nosebelle over who would sit on my shoulder and lick my cheek. After a furious lick fest and long after Nosebelle had lost interest and moved to my other shoulder, Sneezy would remain, snoring gently next to my ear. With her shiny white coat and scarlet eyes, Sneezy was a sweet tempered beauty that will be missed by all who knew her.
OMG, a keychain from Croatia aka Catholic Serbia! I've been wanting to visit Croatia forever. This is my first keychain from that location so thank you very much for that,
bacchuslives
. It is always nice to check another nation off my list! I truly am thrilled!!!!!!!
Meeting now, gotta run, thanks again,
bacchuslives
!
"And so Death took the second brother for his own"-- The Tale of the Three Brothers, Harry Potter and the Deathly Hallows


Muzzle, 2.5, of Orlando, FL passed away yesterday afternoon in my arms due to complications from paralysis. Muzzle is survived by his adopted human family, mother, three sisters, and beloved brother.

When asked to describe Muzzle's personality, I always said he was my emo rat. I imagined he spent his leisure time writing poetry in the style of Edgar Allan Poe and shopping at Hot Topic. Muzzle was very close to his sisters as a baby and had a difficult transition to frat house living when removed from their company at puberty. Compared to the relentless good cheer of his mother and siblings, Muzzle stood out as the resident Gloomy Gus. However, when I applied a bit of extra effort, time, and cuddles, Muzzle could romp and play with the best of them. His offbeat personality served as a reminder that it is okay to be different from others.


Requiescat in pace.
So, I'm back at my work desk which means another keychain post with one of the little figurines I keep for entertainment purposes. We are out of ponies so enjoy this penguin I got out of a Yowie egg- it is like a legal Aussie version of Kinder Surprise but the chocolate is garbage. Oh well, there are cute critters inside.
Anyway, I love the snake on the card that
bacchuslives
sent! It really soothes my inner herpetologist. The keychain is fabulous as well. I am told it is from upstate New York's premier cavern tourist attraction with an underground boat ride!! This really sounds like something that is up my alley. I can't help but imagine it is something like this:
(
Is a hurricane a blowing?
Collapse
)
Sign me up! Anyway, I hope everyone had a nice weekend and has a good week. Thank you again,
bacchuslives
, for an amazing keychain from an amazing place that is going straight on my to visit list.