"And so Death took the second brother for his own"-- The Tale of the Three Brothers, Harry Potter and the Deathly Hallows


Muzzle, 2.5, of Orlando, FL passed away yesterday afternoon in my arms due to complications from paralysis. Muzzle is survived by his adopted human family, mother, three sisters, and beloved brother.

When asked to describe Muzzle's personality, I always said he was my emo rat. I imagined he spent his leisure time writing poetry in the style of Edgar Allan Poe and shopping at Hot Topic. Muzzle was very close to his sisters as a baby and had a difficult transition to frat house living when removed from their company at puberty. Compared to the relentless good cheer of his mother and siblings, Muzzle stood out as the resident Gloomy Gus. However, when I applied a bit of extra effort, time, and cuddles, Muzzle could romp and play with the best of them. His offbeat personality served as a reminder that it is okay to be different from others.


Requiescat in pace.
So, I'm back at my work desk which means another keychain post with one of the little figurines I keep for entertainment purposes. We are out of ponies so enjoy this penguin I got out of a Yowie egg- it is like a legal Aussie version of Kinder Surprise but the chocolate is garbage. Oh well, there are cute critters inside.
Anyway, I love the snake on the card that
bacchuslives
sent! It really soothes my inner herpetologist. The keychain is fabulous as well. I am told it is from upstate New York's premier cavern tourist attraction with an underground boat ride!! This really sounds like something that is up my alley. I can't help but imagine it is something like this:
(
Is a hurricane a blowing?
Collapse
)
Sign me up! Anyway, I hope everyone had a nice weekend and has a good week. Thank you again,
bacchuslives
, for an amazing keychain from an amazing place that is going straight on my to visit list.
There is really no such thing as a boring keychain (to me). Rainbow Dash certainly looks fascinated enough, doesn't she? Without this marvelous keychain, I would never have heard of this organization and now I have their phone number and web address at my fingertips for all time. Thanks,
bacchuslives
and have a great weekend!
Another Turkey treasure made even better with this cool frog card. Amphibians are the best! Ribbon wishes seems pretty excited too.
I've always been a huge fan of anything to ward off the evil eye. Better safe than sorry, you know? I love the pretty vibrant blue color and the little eyes on top.
Thank you again,
bacchuslives
. I don't have anything quite like this and I really do appreciate it. I already feel safer :P
Recently I got a box of keychains from my friend and yours,
bacchuslives
. They were individually wrapped and I immediately thought August Advent Calendar!! I brought the first in the series to work with me to keep me pepped up for the day. Wowie, zowie, it did not disappoint! You can see how excited Work Desk Pinkie Pie is about it.
One thing I like about
bacchuslives
is that he has a major interest, like I do, in religions and spiritual type stuff. I've always wanted to go to see this site in Turkey myself. The closest I have been to a sacred spring was seeing La Negrita's in San Jose, Costa Rica. Scientist that I am, I brought a sample container to take some water home but thinking back. Selling keychain bottles was a big missed opportunity there.
Anyway, this keychain is absolutely amazing! I can definitely do without a fertility miracle (Nosebelle took care of that) but it is good to have some on the go healing, just in case. I bet this was really a sight and site to behold.
Thanks so much,
bacchuslives
for remembering me in such a cool place. I don't suppose you've been fortunate to receive a miracle? Just asking so I know what to expect in the future :P In honor of the day, I will leave you with this (yes, I have the keychain version of this image):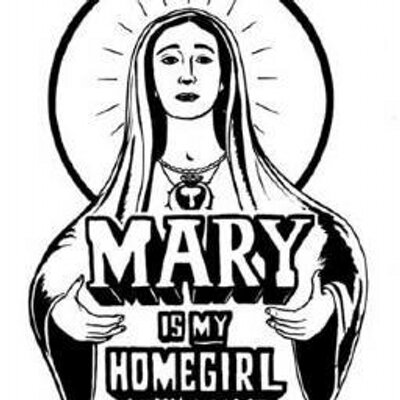 And if that is too much for you, how about this: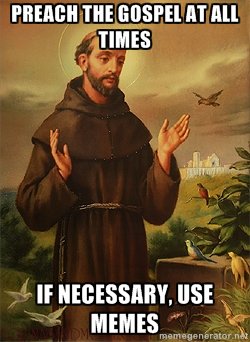 I am absolutely certain this almost exactly what St. Francis really said. Internet memes never lie.
Anyway, stay tuned tomorrow to see what keychain I open at work during August Advent Calendar, brought to you by
bacchuslives
- same Work Desk Pony Time, same Work Desk Pony
Station
Journal.
catharsisss
, from scenic Calgary, Alberta, sent me this treasure trove of keychain delight. Isn't it amazing? What a haul! And since I just mentioned Calgary, you know what that means:
(
Welcome to Calgary, temp -25
Collapse
)
Ok, so back to keychains. The stuffed ones were great! That gorilla with the NY apple is huge! It is definitely one of my top five biggest keychains. Plus he has an adorable face. The troll is pretty fabulous as well. He has mismatched eyes which give him a really sinister vibe. I love it!
I wasn't quite sure what to make of the robot critter in the far right but it is pretty neat, whatever it is supposed to be! The Las Vegas ones were very interesting.
catharsisss
has great taste in keychains as I also bought the same MGM lion on my first trip. No worries,
catharsisss
, that isn't a problem at all. I have plenty of uses for duplicate keychains, particularly cute lions. I also have a matching die keychain but it is from Chicago. The die keychain from Las Vegas that I got from Marty many moons ago has different colored pips so it is nice having an adorable little "sort of matching but not really" set. I also like keychains shaped like keys so that other Vegas one is another winner!
At first I thought an extra keychain loop had been included for my creative purposes, but then I realized it belongs to the tiki to the left of the Vegas key. As soon as I unpack my keychain pliers, I will fix it right up, good as new! I also love that coke bottle- it looks good enough to drink although I guess logically it would barely be a sip. The Mickey Mouse jingle bell is absolutely rad. I love keychains that make noise. And while I have a million Disney World keychains, this is only my second Disney Land keychain so that is pretty exciting.
Adding the Hawaii keychains to my existing Hawaii section will make it incredibly enormous which thrills me. I can't get enough of honu, surfboards, and fake sand. Beach keychains are usually much more pleasing to me than actually going to the beach which I always associate with work. I've spent too much time getting paid to go there that going for fun is this strange idea to me. It is like going to your office on the weekend when you don't have to. Who does that? Anyway, great keychains!
The jewels of the collection are the keychains from the Philippines and Canada. Prior to this, I only had two keychains my dad got me from his most recent trip to Manila. Now I have a respectable sub section indeed. Each one was better than the last and I am thrilled to death over them. I also have a soft spot for any and all Canada keychains. My love of maple syrup and the flag is just a hand in a glove. I also could not pick a favorite of these even if I wanted to.
Thank you so much to
catharsisss
. I really appreciate you taking the time to send these to me. I love them all and in your honor, I will post my favorite Canada meme that I use for all occasions when an adorable moose is called for:
Thanks again!
I've been super busy lately, as you all know, with moving and burying poor rat babies. Several kind people have sent me keychains that I had to hold off on posting because other mission critical but less fun and exciting stuff was demanding my time. I appreciate the patience of everyone! My keychains still aren't set up as a glorious collection yet, partly because it has been 17 years since they were last moved and I understandably have way more than I did back then.
I intended to wait until all the old were set up, open the new ones friends have mailed me, post about them here and then add them to the collection at that time. However, I am tired of waiting and making you wait! I have a new and wonderful idea for how to display them that I look forward to sharing with all of you when the time comes. My last display was done being cleaned and organized in three 11 hour days but I would be surprised if I could get it done in a week now. Whew. Well, enough rambling, on to the show!
Do you remember
Emily
? Well, she sent me two more packages of keychains after the initial posting. That was pretty exciting! The second package she sent had this cute little critter type thing. The most recent package had some fancy Polo keychains. I'm super excited about all of it!
Thank you again, Emily, for sending me some keychains and remembering me and my collection consistently. It means a lot! I really appreciate your patience. You're the best because you made me feel like this:
Stay tuned tomorrow as I reveal some keychains sent to me from the Great White North. Have a great day, Smoo Crew!
"And so Death took the first brother for his own"-- The Tale of the Three Brothers, Harry Potter and the Deathly Hallows
Honker, 2.5, of Orlando, FL passed away yesterday afternoon in my arms due to blood loss from his tumor and seizure. Moments before, he was sitting in his hammock enjoying a treat with his brothers. Honker is survived by his adopted human family, mother, three sisters, and two brothers including his best friend and partner in crime, Smellow.
Honker (Honks to his friends) had a bold, almost pushy, personality that would not be out of place in a New York borough. Even when his lump began to grow last November, he still never hesitated to shove his way towards whatever food or treats were on offer at any given time. Honks had an unusually piercing gaze that could summon me from across a room. When stressed at a vet trip, he would only relax once he could see that I was close at paw.
Honks also had a softer side which he displayed whenever he allowed Muzzle to use his lump as a pillow in their hammock. In his leisure time, he enjoyed listening to any story about three brothers such as
Harry Potter
,
Brother Bear
, and
The Brothers Karamozov
. He also seemed to like funny and true comics featuring rats. I leave you with this one in his honor:
More can be found
here
that show the true reality of living with ratties.
Requiescat in pace.
Thank you to the several people who have sent me keychains in the past couple months since
I moved
. I hope to have posts for you soon. Thanks for your patience. Please PM if you need my
new address
.


Pokette was a wonderful friend. When she lost part of her eye as an infant, she inspired everyone by overcoming that obstacle and continuing to enjoy life as much as possible. She will never be forgotten by those who cared for her.

Resquiecat in pace.
January 1, 2014- June 13, 2016



In other news, I have moved so if you are in need of my new address, please message me! I have gotten two packages recently with keychains. The senders have been notified that I received them. I haven't posted yet since my keychain racks aren't set up so it is easier to keep them boxed up for now. Thank you for your understanding and hopefully I will be updating more regularly again soon!
Pokette, 2, of Orlando, FL passed away this morning due to complications with a lung infection and many tumors. She is survived by her mother, three brothers, three sisters and adopted human family. The date and location of her memorial service will be available upon request as the information becomes available.
My parents used this keychain for their car for years and I just now finally got it back. I don't mind loaning keychains to family members since they are all well aware that all keychains are belong to me. It is nice to have the Genie back with me as he was always one of my favorite characters from that movie, along with Carpet and Rajah. I hope all my American brethren had a nice Memorial Day!